Last night I gave a short, one hour look at the crazy world of Search Engine Optimisation to the Belfast Entrepreneurs Network.  It was a nice, informal little event that I enjoyed very much.  In the talk there were a bunch of links / resources that I brought up that I wanted to collect here – both for attendees and anyone else who might find them useful.

Top of the list – I find these guys to be the most authoritative, insightful and straightforward of all search engine people.  They talk sense in plain language and offer great, actionable tips.  They're a software provider – and their SEO software is extremely valuable – but you don't need to purchase anything to benefit from their vast knowledge.  A must read.

This is a google doc that you can use to find recent content online that is related to your chosen keywords.  Type into a cell on the spreadsheet your keyword, and the spreadsheet searches google news, reddit, twitter, etc. and returns a list of recent stories.  Find out what is being talked about in your industry – and use it to fuel ideas for your own content generation.  This is a seriously useful tool for anyone regularly generating content (which should be all of us).
Still stuck for content?  Try this list of 88 content creation ideas … there's bound to be something to tickle your fancy.
Obvious, but useful.  The google keyword tool can help you ascertain competition for your keywords – helping you identify additional keywords you've maybe not thought of, as well as helping you determine gaps in your existing keyword strategy.  If you can find phrases that are high volume, low competition – you may have identified a gap you can exploit.
Google Trends shows you the search volume for a key term over a period of time.  Use it to compare a few different terms to see what's on the rise, what's declining – and use that to better determine where to spend your time in content creation.
Link Building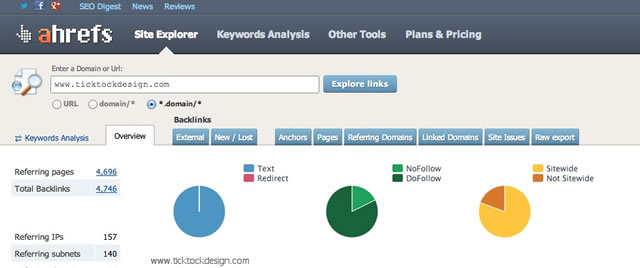 Two good tools for analysing back links – seeing anchor text, linking domains, number of back links, etc – both for you and your competitors: ahrefs.com and opensiteexplorer.org.  The second is a tool from SEOMoz.org.  They both give you a certain amount of info for free – but to get the full weight of knowledge, you need to pay.  Have a look though – if you're thinking of spending good time and money on SEO, I'd recommend these tools.
From the horses mouth
Matt Cutts is the friendly face of google search help for web masters … the video I mentioned in my presentation – where Matt talks about social signals being used in Google search – is this one.  For 3 minutes, it's worth a look.  He has a YouTube channel here which is useful if you've ever wondered how google does something, or why they do something … he answers good questions each week on what signals google is using, how it reacts to certain situations, and so on.  Useful stuff.
And actually, I've just spent 10 minutes watching this: SEO for startups which would be useful for everyone in the room last night!
So, that's it – hope that the presentation was useful.  If you have any questions at all, please don't hesitate to ask.